/* 1170x450 */ ?>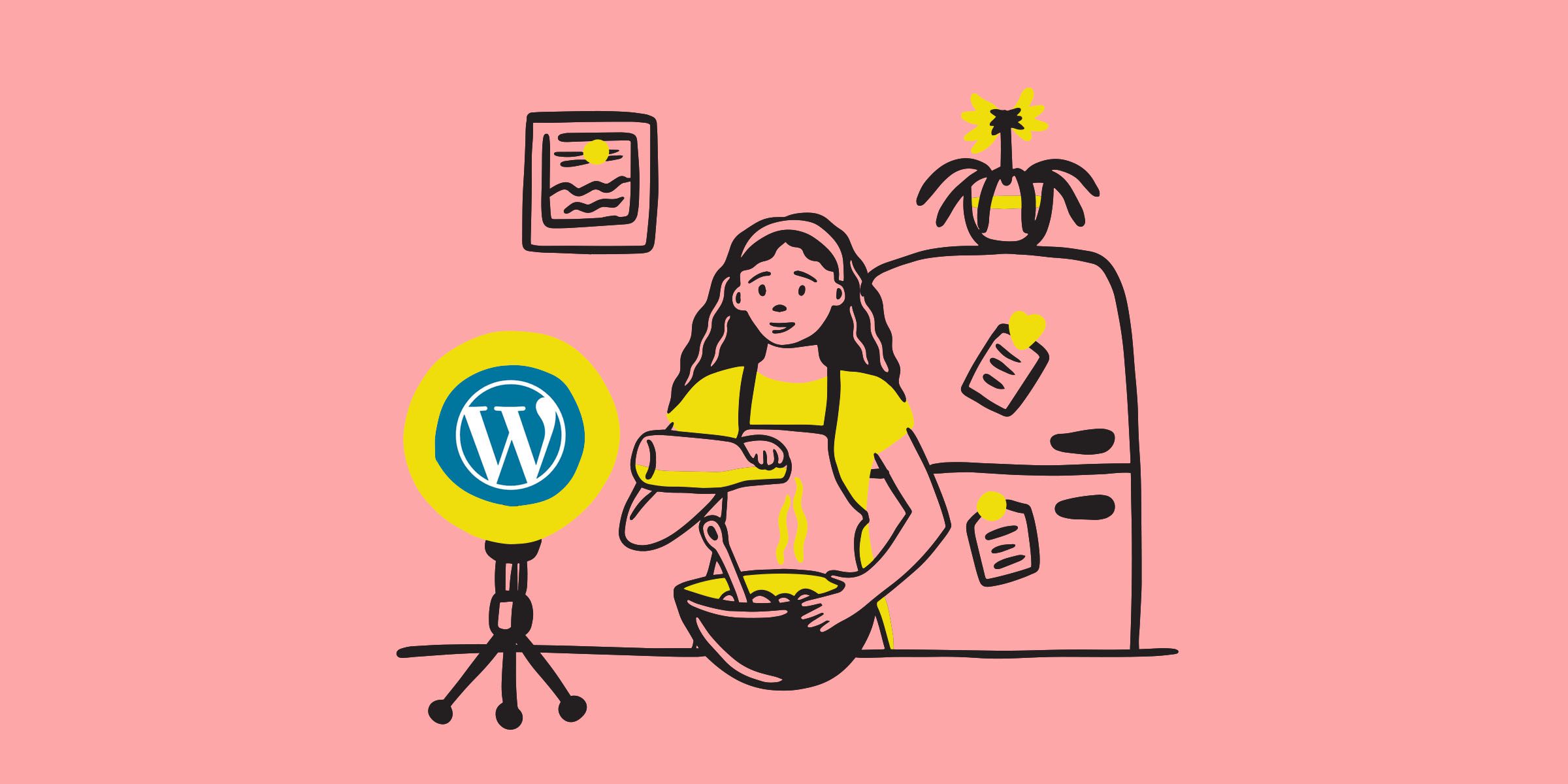 If you are a food blogger, you will be familiar with always wanting to milk as much as you possibly can out of WordPress. But which plugins are actually worth adding to your recipe list? To help you grow and flourish, here are 14 of the best WordPress plugins for food bloggers available today.
Okay, we don't need to tell you that WordPress is the most popular blogging platform. But what about the best WordPress plugins for food bloggers? In this comprehensive guide, we're sharing the best WordPress plugins for food bloggers that are guaranteed to add huge value to both you and your audience.
We are skipping some of the common plugins such as WP-Optimize, Duplicate Post & WP Defender – However, if you are looking for a more comprehensive list, that isn't food blog specific, then take a look at this article. Now, let's chop through the trash and get your food blog smoking with some incredible food blogger plugins.

1. Rank Math – All In One SEO & Recipe Schema Plugin
Without a doubt, Rank Math SEO plugin is built for food blogging. Well, just blogging in general really. As an all-encompassing SEO plugin, Rank Math takes care of many SEO aspects that historically you would need multiple plugins to achieve. For any food blogger using a combination of Yoast SEO, Redirection & Schema plugins, you should check out our Rank Math Vs Yoast SEO comparison guide. We were super astonished to find out what we were missing out on by not having this plugin.
No matter what stage you are at with food blogging, a solid WordPress SEO campaign will be critical to driving highly qualified traffic. Therefore, installing a 'can do' free plugin such as Rank Math is an absolute no brainer. What's more, you can also manage page redirections, social sharing, internal links, connections to Google Webmasters and Recipe Schema Markup with this powerhouse SEO plugin.
» Official Rank Math SEO Plugin

2. SumoMe – Social Sharing & Email Marketing Plugin
For fashion bloggers, the social warfare plugin ticks all the boxes and features on our best plugins for fashion bloggers list. However, for food bloggers using WordPress, the SumoMe plugin is your go-to tool for social sharing and email marketing sign-ups. The free version will enable email opt-in forms, social media sharing, welcome emails, eCommerce connection and more. As a starter food blogger WordPress plugin, this is more than enough functionality to get you going.
However, if you want to amp things up and grow your subscriber base faster, a premium option is available. There are plenty of case studies online of users amplifying subscribers by up to 10X with this plugin so it's definitely work checking out. Not only does SumoMe look sexy, but it also does not slow down your website like many other similar plugins.

3. Instashow 3.0 – Instagram Feed
Infinite pop-ups, call to action buttons, 60+ adaptable parameters and 10 colours schemes are just a few reasons why Instahow 3.0 is the #1 Selling Instagram Feed Syndicator on CodeCanyon. So, it costs $24USD to unlock these features, but it's really one not to be missed. When you consider how much money you will generate from passive ad impressions over the years, there are huge amounts of cost-benefits for this plugin.
Alternative, if you are looking for a completely free Instagram reel on your website, then take a look at Smash Balloon's Instagram Feed. While it does not come with all the powerpacked features of Instashow, it gets the job done with a seamless showcase of your feed.
» Download Instashow 3.0 Plugin

4. WP 2x Retina – Retina Food Blog Image Plugin.
There is no faster way to destroy your food blog than poor quality images. As such, using a plugin such as WP 2x Retina to display retina-ready images to your visitors is an absolute necessity. If you are running a WordPress website that does not use version 4.4 or above, your food blog images will likely look terrible on mobile devices. WordPress has fixed this in recent versions, however, the WP 2x Retina Plugin is definitely a must-have addition to your plugin arsenal.
To use this plugin, simply upload an image as normal to your posts. Then, head on over to the Retina Plugin to regenerate your images as retina-ready files. You can even process bulk images and set rules for what images you want to display as retina-ready. It's really simple.
» Download WP 2x Retina Plugin

5. Disqus – Comments & Audience Builder Plugin
No blog is complete without offering your visitors the ability to engage with your posts. While many food bloggers channel website visitors to social media for engagement, offering a slick comment feed at the base of each article is a fast-track to growing a loyal following. The reason why we picked Disqus as our top social commenting tool is that visitors can also login via social media profiles such as Facebook. Therefore, you get the best of both worlds.
Whereas the native WordPress commenting system will require some development to match your theme, Disqus adapts to your websites look and feel whilst remaining fully manageable from outside of your websites admin panel. It is rated the #1 audience engagement plugin for WordPress and comes with features galore. There's too many to mention so just hit that button below and check it out for yourselves.

6. Adsanity – Ad Placement & Management Plugin
Superb food bloggers make tons of money with sponsorships and advertising revenue. While at first your blog should be fuelled with passion, there will come a time when you want some sauce to go with the fries. So, how do you monetise your blog without having to reach out to potential public relations companies?
AdSanity.
Passive income from adverts is the easiest way to grow a residual flow of income for, well, just posting about the things you love. AdSanity was developed when its' owners could not find a simple solution to post and manage third-party adverts. Why keep hunting for something when you have the resources to make it yourself – right?
The AdSanity brand is quite literally about taking something that can be very complex – advertising – and bringing some simplicity to it. AdSanity is the unifying tool that turns your WordPress website into an ad server without getting in the way of your content. It can take ads from most ad networks, or host ads that are local to your site and seamlessly present them to the users of your site.
Find out more about this gem by clicking the button below.

7. Pinterest Pin It – Social Sharing Plugin
Any decent food blogger using WordPress will tell you that Pinterest is one of the greatest sources of traffic. Therefore, a great way to reach more people with your content is to optimise your website to allow sharing via Pinterest. Not only does the Pinterest Sidebar Widget create a smaller version of your Pinterest profile, a single click on one of your pins will take your readers to your Pinterest page.
With the Pinterest Pin It Plugin you can, show the Pinterest Pin It Button upon image hover, showcase within posts and pages, change the colours and also enable or disable on mobile or portable devices. It's the fastest way to ensuring your blog traffic pins your content.
» Download Pinterest Pin It Plugin

8. Google Language Translator – Text Translator
Food is loved by everybody. From the far east, to the depths of the deep west, the love of food has no language barriers. However, your content does. While Google Chrome has built-in language translation tools, they are not always as accurate as The Google Translate plugin.
Therefore, anybody visiting your website from foreign nations (and trust us, they will) may not be able to completely understand your recipe. By installing an easy-to-use plugin, such as Google Translate, your website will feature some cute flags for users to select their preferred language whilst allowing readers from every nook and cranny of Mother Earth to translate your site via Google's API.
Through this increased exposure, you are rewarded with higher traffic and opportunities to work with brands on a global scale.
» Download Google Language Translator Plugin

9. Gravity Forms – Contact & Lead Forms
As your blog grows, brands and follows may want to contact you. Therefore, it's best to make the process of reaching you to discuss your shared love of food easy enough for your grandma to use. Say hello to Gravity Forms.
Upon face value, Gravity Forms looks like any regular contact form plugin. However, when you start to play around under the hood, you'll find so many integrations and customisations that you will immediately fall in love. With the flexibility to deliver both simple or advanced engagement forms, you can tailor each contact form to suit your agenda.
As an agency, we love to trial different form types to balance the information we need to deliver a valuable response vs. the number of forms that are actually filled out. Although not for the faint-hearted, Gravity Forms can also syndicate all email addresses from an enquiry form to your MailChimp email marketing account. Keep your visitors in the loop about your recent posts or promotions without having to manually copy and paste each subscriber!
» Download Gravity Forms Plugin

10. Meal Planner Pro – WordPress Recipes Plugin
Meal Planner Pro is one of the best recipe plugins out there. It's been around for a while and you bet has had a number of updates. Aside from being fully compliant with Google Recipe View and Pinterest Rich Pins schema markup requirements, this plugin is also fully responsive and perfectly adjusted for Desktops, Tablets and Mobile Phones.
Meal Planner Pro comes with a variety of design options, and there is a design to suit every style of Food Blog out there. With elegant, sleek and minimalistic designs available, this plugin will not distract from your beautiful food photos. Have a look at what Meal Planner Pro looks like in this recipe.
» Download Meal Planner Pro Plugin

11. Tasty Recipes – Best Recipe WordPress Plugin
For beginners, we recommend using the free Meal Planner Pro recipe plugin. However, once you start to grow your blog, you will want to look at a premium plugin such as Tasty Recipes. Tasty Recipes has lots of features to help you upgrade the recipe publishing functionality of your WordPress website. Not only does Tasty Recipes allow you to import all of your previous hard work from Meal Planner Pro, Cookbook or Ziplist, you will be surprised to hear that Tasty Recipes also allows you to monetize your website by inserting adverts directly into your recipes.
Additionally, Tasty Recipes also supports SEO friendly recipe content, Pinterest, rating systems and comes with extremely responsive support from its original developers. It's kind of like Rank Math but for the recipe world. Although there isn't a free version of Tasty Recipes, there is a 15-day money-back guarantee available so you can try this plugin without risk.
We would go as far as saying that Tasty Recipes is the best recipe plugin for WordPress currently available.

12. MC4WP – Mailchimp For WordPress
As much as food has a shelf life, so do your website visitors. Every good food blogger knows that to retain a captive audience, email marketing is essential. With Mailchimp For WordPress, acquiring new subscribers and retaining existing mailing lists becomes easy. Okay, so you will need a Mailchimp account for this to work, however, as the leading email marketing platform we assume you will already have one.
The MC4WP plugin allows you to create good looking sign-up forms and makes integration with Mailchimp simple via an easy to use guide. If you are using a contact form plugin such as Contact Form 7 or Gravity Forms, the Mailchimp for WordPress plugin also comes with seamless integration with these tools. Say goodbye to begging visitors to join your mailing list and say hello to subtle and intuitive Mailchimp list management.
» Download Mailchimp For WordPress Plugin

13. Skimlinks – Hands-Free Affiliate Marketing
Now you're pumping with superbly optimised on-page SEO, recipe cards, social sharing tools and ways to interact with your blog, it's time to slide some neat little affiliate links to help you earn money. At first, affiliate marketing is daunting. Not only do you need to find merchants, creating affiliate links can be a little scary. This is where Skimlinks becomes your knight in shining golden armour. With Skimlinks, you can focus more on advertising revenue and less on your development work. This automated solution is great for beginners or WordPress food bloggers that really just want to focus on writing content.
To get started, just simply join the Skimlinks network and install the official plugin on your website. Once this is done, you can start earning commissions quickly without lifting a finger. Skimlinks automatically combs your content to look for brand and product mentions it can turn into affiliate links. It's hands-free affiliate marketing at it's best. The drawback of Skimlinks is that you will earn less commission than other platforms. However, as a WordPress plugin for food bloggers that requires zero effort, it's well worth exploring for beginners.

14. Jetpack – Free & Premium Food Blog Plugin
Last but not least, how could we forget Jetpack. For many years, Jetpack has been used by hundreds of thousands of blogs and we never really gave it a chance; until recently. Since adding new features such as lazy load images, security and a connection to a high-performance CDN (which makes your website faster), Jetpack is a true swiss army knife.
Created by WordPress themselves as an industry-leader in readability, 'Jetpack' is an all-in-one plugin that offers bags of advanced features for you to supercharge your website! Using Jetpack can help you reduce the number of other plugins you need to run on your blog whilst providing the ability to introduce features such as 'Infinite Post Scroll', 'Website Security' and much more.
Click the link below to be on your way to a stronger, lighter WordPress food blog!
Best Food Blogger Plugins Summary
With these 14 plugins under your food blogging belt, we are sure that foodies across the globe will revel at your improved website. However, be careful not to install them all. For every WordPress plugin for food bloggers that you install on your WordPress blog comes slower speeds and potential security issues. The best approach is to find a food blog theme that ticks the majority of boxes and then only use the plugins that you really need.
Whilst we thoroughly recommend that you explore our shortlist, you should cherry-pick what is going to deliver the most value for you and be critical in your decision before you plug and play. Ask yourself, is this going to really enhance my blog?
If yes, then let's get cooking and download away!