85% of all online purchases start with Google search.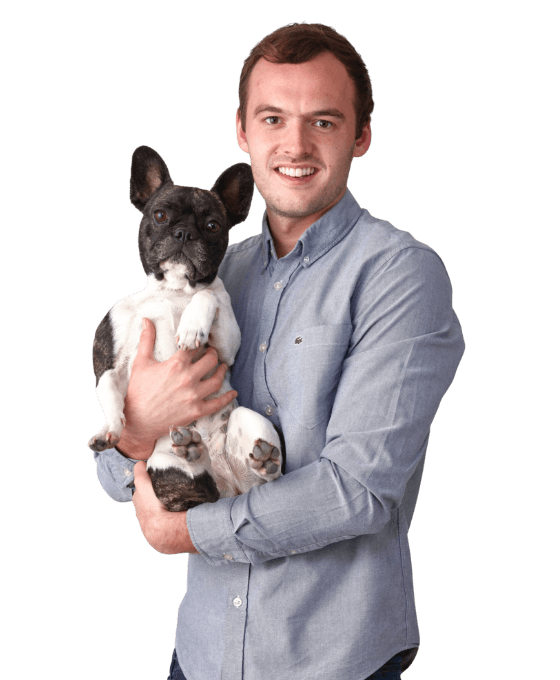 We're loved by Aussie brands ❤️
6 reasons why you need dedicated eCommerce SEO experts.
We treat our eCommerce SEO services differently because Google evaluates search queries that involve selling with extra attention. Not only are the funnels for customers, compared to lead generation sites, different but the purchasing intent wildly varies too. The more complex the customer journey, the greater amounts of data analysis is needed to make informed decisions that lead to desired outcomes. There are also additional challenges of operating and managing larger sites where site hygiene is imperative to performance.
Here's 6 reasons why you need an eCommerce SEO company rather than just any old SEO agency that focusses purely on small businesses.
1. Buying Behaviour
The purchasing behaviour of customers buying products is far different to those enquiring about services. An eCommerce SEO agency understands this better than anyone.
2. Site Architecture
An eCommerce SEO expert deals with complex site architectures across multiple SKUs. Of which, service-based SEO companies have limited experience with this complexity.
3. Mass Content
Anybody can write content for a single page. But can you write content across thousands of SKUs without the process taking a decade? An eCommerce SEO agency can do that!
4. Crawl Budgets
One thing that service-based SEO campaigns never have to deal with is the crawl budget. An SEO agency that specialises in online stores will know how to ensure all your pages get crawled.
5. Link Building
Link building services for eCommerce websites vastly differ given the sheer number of pages you want to rank simultaneously. We have experience working across huge domains on this front.
6. Complex Tools.
One mistake on your eCommerce CMS could set you back weeks or months. By working with a dedicated eCommerce SEO company, you can rest easy knowing this will never happen.
eCommerce is soaring. Are you?
Throughout Australia, eCommerce B2C is growing at around 30-40% yearly. There is no doubt that eCommerce businesses are flying right now. With the window of opportunity closing, are you making moves and keeping up with your competition with your eCommerce SEO endeavours?
SEO is the foundation of sustainable growth. It delivers the greatest ROI once it gets going and does not require you to constantly spend a fortune acquiring traffic. Partner with our eCommerce SEO digital marketing agency today and start your journey to increased market share.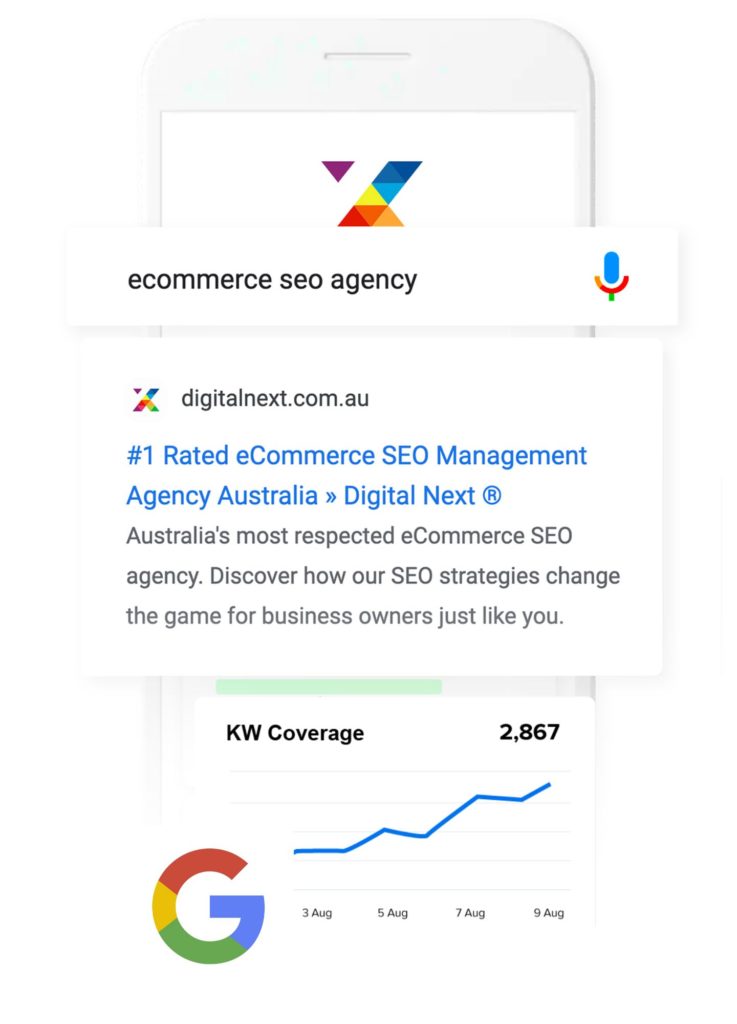 "Nobody has the keys to Google's algorithm. But one thing is clear. It starts with aligning your content with user intent."

Omar Mourchad
» Head of SEO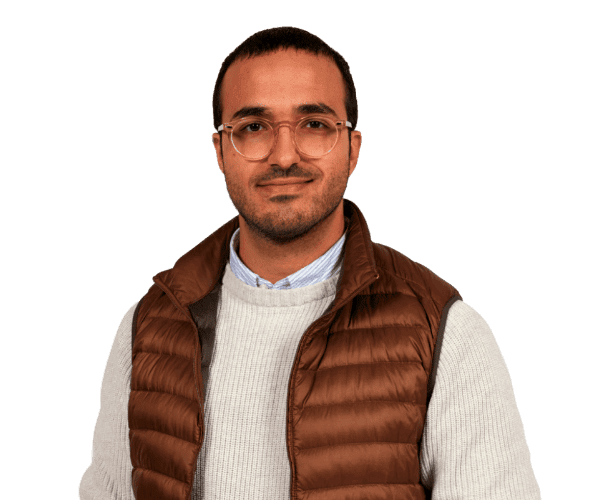 Questions about our eCommerce SEO services? No problem. Take a look at the most commonly asked questions our eCommerce SEO management team answers.
Contact Us →
Commonly asked questions
eCommerce SEO is search engine optimization for eCommerce websites. It is an advanced version of SEO, in which, the services that are delivered are dedicated to driving results for an online eCommerce store. The goal is to provide the best information on the internet that specifically answers a searchers query. Then, you manipulate your website to ensure that this content can be easily found by users and search engines. You become the best.

At the core is everything you will find with standardised SEO services such as optimising pages on your website to gain more visibility on Google when a users is searching for products that you sell. However, due to the nature of eCommerce websites, there are a series of extra steps that are taken to drive results.

For example, an eCommerce SEO agency may perform extensive technical SEO analysis to determine which products are best to target with eCommerce SEO services. When you have a website with over 500 products it is not possible to target every single product all of the time. So, extended research is required to analyse the market demand, the competition, the profitability and the complexity of ranking these products on Google. This type of extended analysis would not be required for your everyday local business. Therefore even something as simple as this would classify eCommerce SEO as an advanced discipline of SEO.
There are no two ways about it. eCommerce SEO is absolutely critical for any business aspiring to command a strong market share. When done well, eCommerce SEO puts your website directly in front of customers looking to buy your products. It grows your traffic, increases your brand awareness and puts your business on the map. No matter what content management system you are using, the results are universal.

What you often find with eCommerce SEO, comparatively to other channels, is that your conversion rate will be higher from this traffic source and your return on investment (overtime) will be superior. While other channels deliver fast returns, an eCommerce SEO company will be able to ensure that your return on investment is compounded. Therefore, you make less upfront but you make tons more overtime.

That said, eCommerce SEO services are not for everyone. Especially businesses that are operating within a space that has low margins and extremely stiff competition. The level of investment and time that is required to break into the top 1% of search results will be steep for these types of businesses. As such, you might be better off exploring hard and fast revenue streams such as Google Ads management, Google Shopping management or Facebook Advertising services to deliver quick wins.
Yes, an eCommerce SEO audit will be provided with our services. In fact, even our cheap SEO marketing packages begin with a comprehensive SEO audit of both your on-page, off-page SEO and content structure.

Given that there are many free online SEO audit tools, we do not like to look at these as audits. Rather, they are blueprints for our SEO experts to formulate a strategy. Sure, an audit online will provide you with top-level metrics. However, our SEO audits delve right into the core of your business, your product lines and marketability. We don't just look at whether you have clean heading tags, we look at the bigger picture.

Once you receive your SEO audit from us, your assigned account manager will call you to discuss our findings and present a roadmap on how we are going to tackle these issues. We take an iterative approach to digital marketing and our SEO services are no different. There are no silver bullets and no over-promising. As long as the needle continually shifts in the right direction, we are happy.
Yes, we provide holistic eCommerce SEO management services. Right from the get-go, everything we do looks at the bigger picture of your business. From our auditing to our implementation, we leave no stone unturned.

Our eCommerce SEO services include:


On-Page SEO.
Technical SEO.
Schema Markup.
Link Building & Guest Posts.
Curated Link Building.
Link Profile Management.
Blog Management.
Content Writing.
As strong believers that the best SEO campaigns require full-time eCommerce SEO management, our strategists pull out all the stops. Sure, we are not literally working on your campaign all of the time as that is not possible. However, we have refined our processes over the years to ensure that we can deliver far more physical work output for your budget.
After all, SEO primarily is just sheer graft and grunt work. There's nothing too flashy about anything that we do. But, it drives results. So, if you are looking for an eCommerce SEO management agency that will put everything they have to shift the needle on your campaign, give us a call on +61 (03) 9699 4585 for your free SEO strategy and website health check.
Truthfully, there is no answer to this question. Each eCommerce platform comes with huge pros and cons. You should always look for the platform that will best align with your business, rather than your SEO campaign.

Trust us, we have seen businesses migrate platforms because their SEO expert told them to and they hugely regret this decision. When put into the right hands, any eCommerce platform can deliver strong SEO results.

The reason why is because it's not the platform delivering the results, it's your incredible content, quality backlinks, awesome site structure and all-around great user experience. Sure, some platforms are harder to work with than others, however, at the core, you can rank any website on any platform.

So, when the question becomes which eCommerce platform is easiest to work with, the answer would be Shopify SEO or BigCommerce SEO. Although we are huge WordPress advocates, Shopify and BigCommerce come with super easy to use interfaces and plenty of handy plugins.

We would always recommend WordPress when you have a developer to hand, however, WooCommerce is not the best eCommerce extension around so every decision you make needs to be measured. Ultimately, we would recommend you put your business needs first and then worry about how you will handle your On Page SEO later down the track.
Absolutely. Every month you will receive an eCommerce SEO report with a follow-up phone call from your account manager to discuss. We would recommend against any eCommerce agency that does not provide monthly reports. It is your campaign, your budget and your website. You should be clear on absolutely every action that has been taken and the rationale behind those actions.

Our SEO reports include all of the above as well as your link building activities where we detail the links we have built, the anchors we have chosen and the websites we have posted articles to on your behalf. Not only this, but our SEO management team will also report on any negatives too. SEO is not all green lights and roses. It's a journey with ups, downs, lefts and rights. Reporting on areas of improvement is far more critical than talking about victories. Data without context is absolutely useless.

So, if you are looking for SEO services for eCommerce websites that deliver results and educate you in the process, look no further than Digital Next. Call us today on +61 (03) 9699 4585 to get your free strategy.
Digital Next pays respects to the Traditional Owners of the land upon which we work and learn. We pay respect to elders past, present, and future. Our staff acknowledge that they live and work on Wurundjeri, Woiwurrung, Bunurong, Yugarabul, and Wadawurrung lands. We are in support of a treaty.