/* 1170x450 */ ?>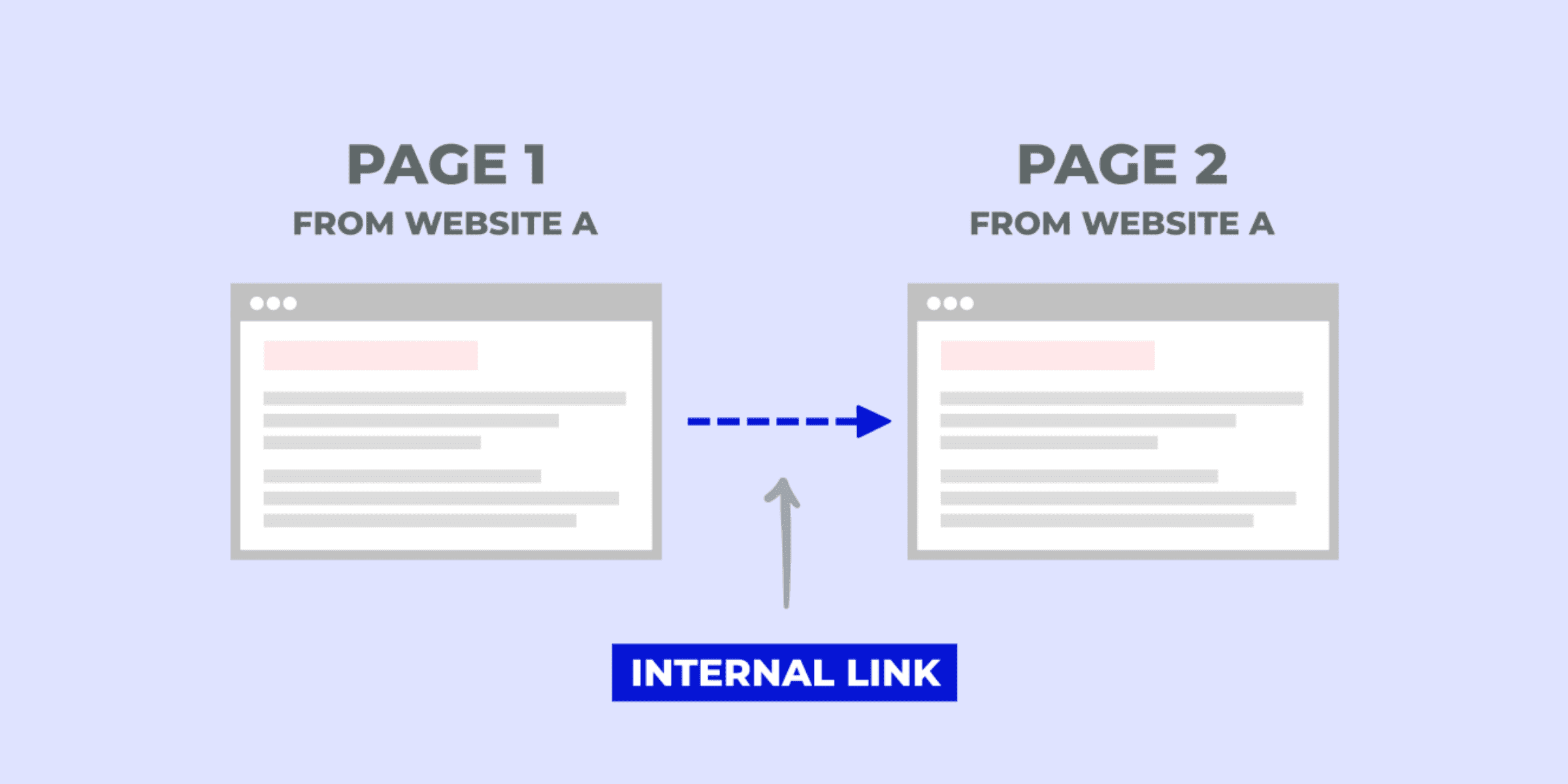 No matter how well your content reads, you need SEO internal links to stand any chance of ranking on Google. That is just a fact. Here's everything you need to know about internal linking for SEO throughout 2022 and beyond! 🚀
You may have heard the saying "content is king" when it comes to SEO. Whilst this definitely rings true, a certain standard of thoroughly researched content is really the backbone behind this claim. Crafting quality SEO content cannot be achieved through regular publishing alone. Sure, that goes a long way, however, the internet is already a dumping ground of quality information.
So, how will your website stand out?
If you're looking to create web content that consistently ranks within the top 5 listings on Google, utilising an effective external linking strategy, internal linking strategy and off-page link building strategy is an absolute must. Today, we'll be taking a closer look at how internal linking strategies are geared to generate organic traffic, and why even simple internal linking for SEO can yield game-changing results for your business.
–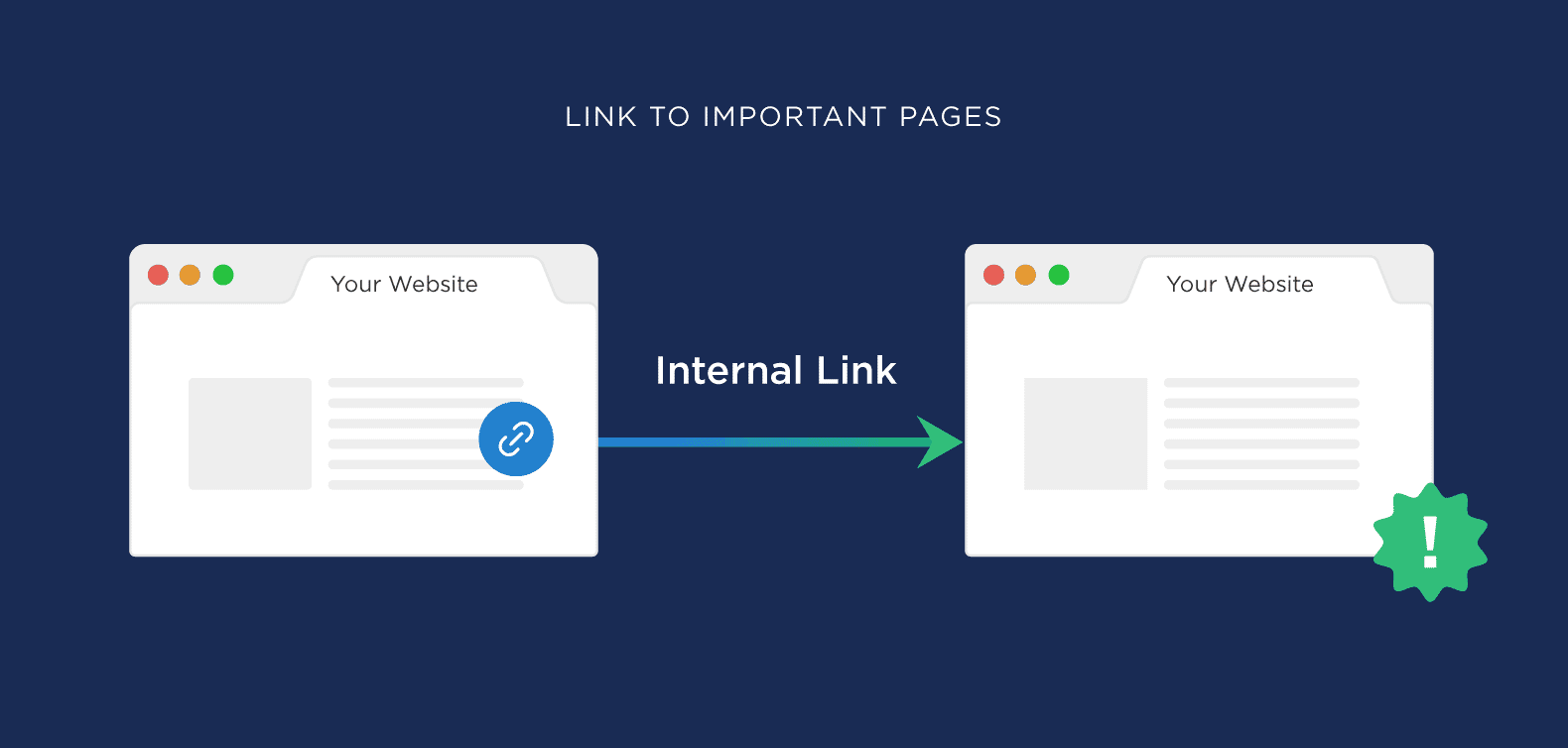 What are internal links?
Placing SEO down to one side for a second, an internal link is simply a link from one page on your website to another page on your website. By adding an internal link, you are bridging the gaps between your content and helping both users and search engines find high-value material on your website. We use internal links to navigate our way across the internet and search engines also do the same thing when crawling your website. If you have no internal links, search engines may not find your content.
Furthermore, internal links enable search engines to determine what content on your website is important, the hierarchy of this content and the level of detail surrounding a particular subject or topic cluster. After all, search engines are merely trying to help us find the right information within the fastest amount of time from trusted sources.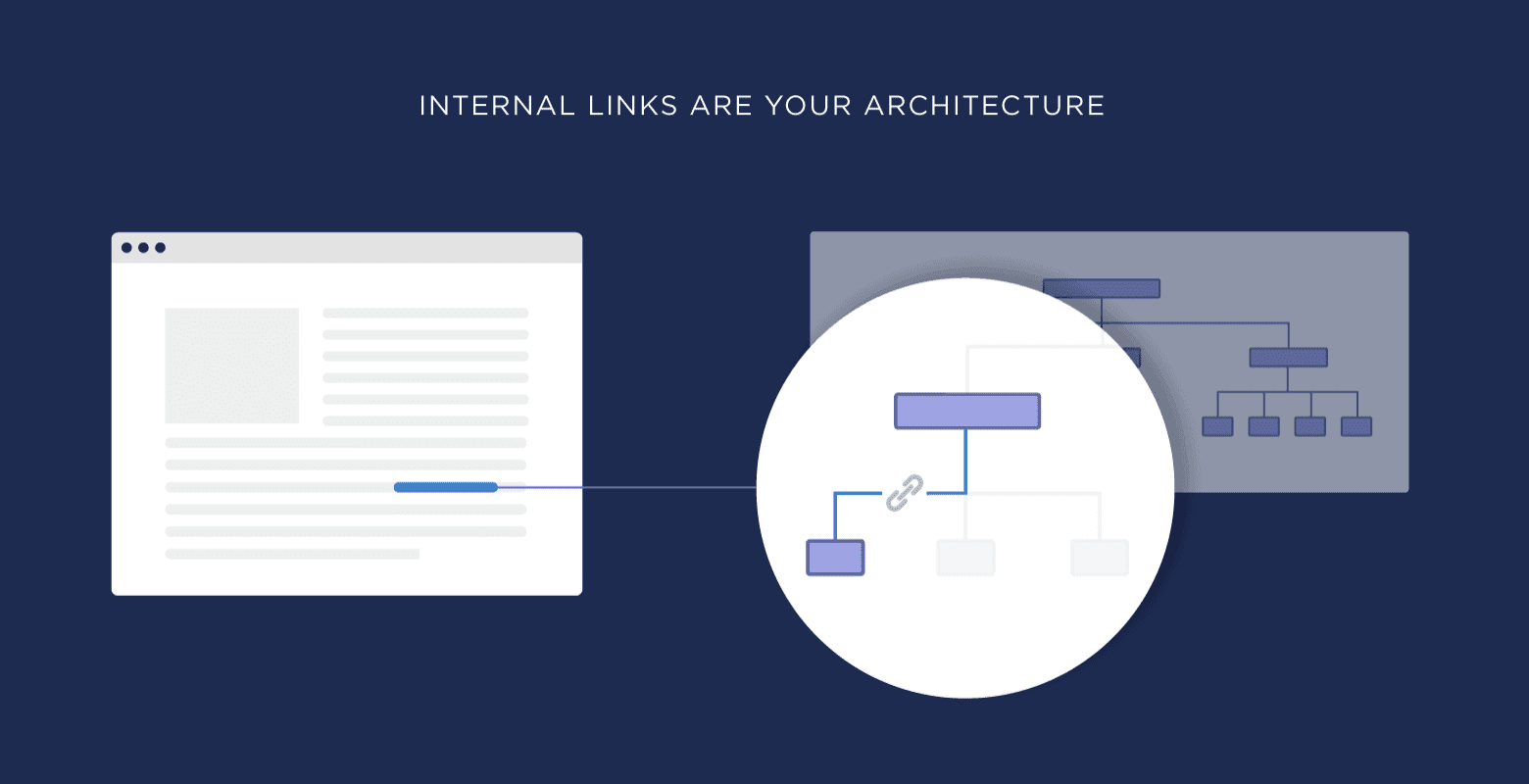 –
Different types of internal links.
Technically, any link that connects one page to another on your website is an internal link. However, there are several types of internal links that are classified by their purpose and characteristics. Some are of more value than others and the biggest distinction between them is whether they appear on all pages on your website or whether the internal link has been placed specifically within your content.
There are two primary types of internal links:
Navigation internal links.
Contextual internal links.
Whereas navigational links appear across your entire website, contextual internal links are inserted specifically to connect one word or phrase of content to another page on your website. These types of internal links are the most powerful for SEO as Google will also analyse the supporting content to determine what the page you are linking towards is referencing. In addition, the format that these links can appear will vary. Sometimes, you may want to link an image or a button to a page. Whereas other times, you may just simply hyperlink the content.
Internal vs external SEO links.
Not to be confused with internal links, an external link is one that points from your website to another website. In addition, an external link may also come from another website to your own website. Here, these types of links are called "inbound links" and "outbound links" with the latter being a link from your website to another website.
For example, let's say you are writing about an event and you want your website visitors to be able to book tickets. You may want to add an external link within your content to the official booking website. This way, your users can read up on details about the event and then make a booking very quickly. Conversely, as the ticket office, you would want other wants to create these inbound links to your website so you can make money and also be seen as the authority for the event by search engines.
–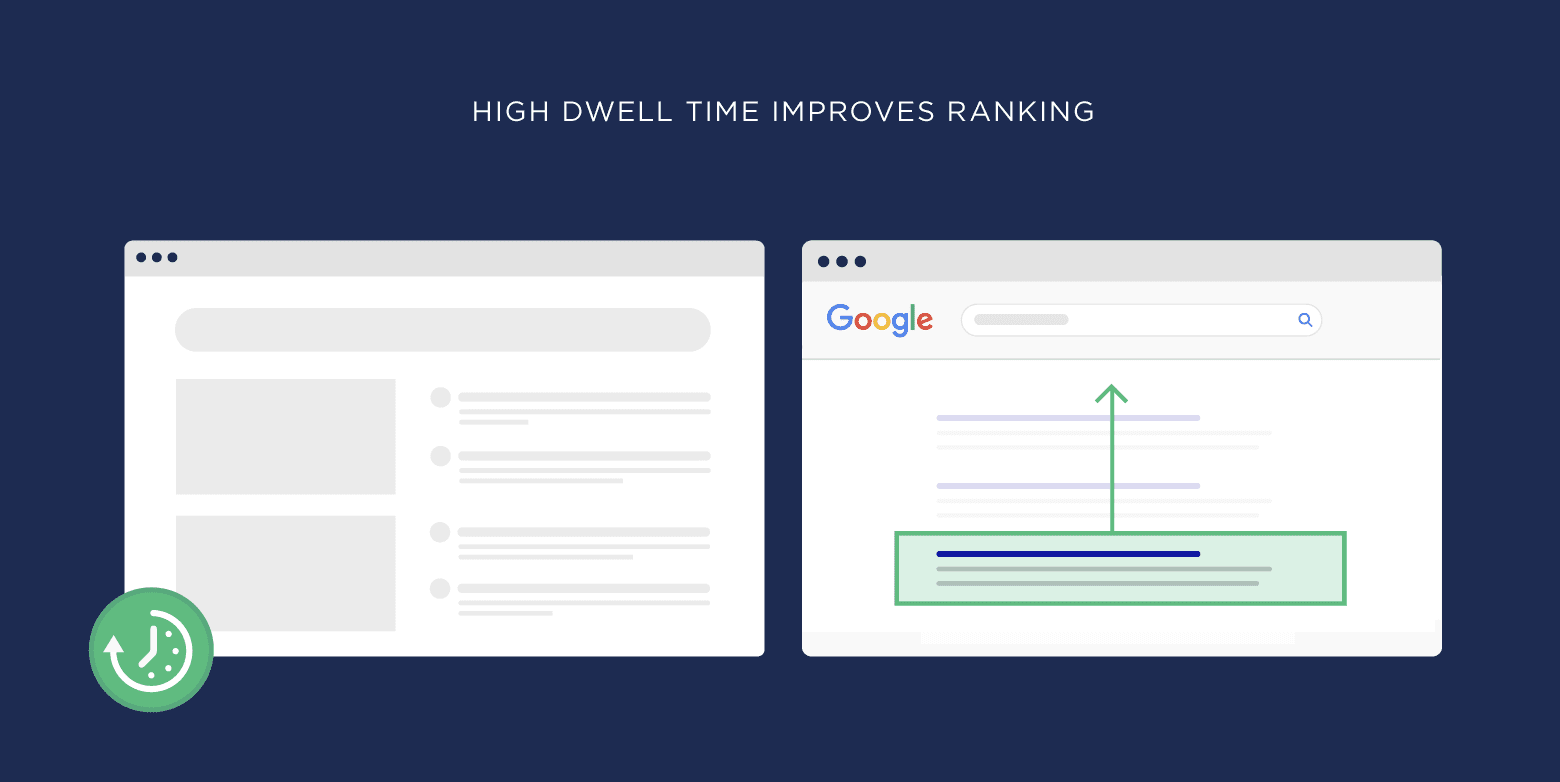 Why are internal links important?
Internal linking for SEO is one of the most underrated SEO strategies. It's an extremely important ranking factor for Google and other search engines and is totally free. In fact, internal linking is crucial to SEO, as it makes it easier for site users to navigate all the high-value content across your site, as well as reinforces to site crawlers that your domain is a reputable source in your industry.
If your website was a library of information, how would you categorise this material? In the real world, there would be plaques above aisles to categorise genres. However, online, you create category pages and then add internal links to drill down further into the micro details. Here are some other ways internal links are important for SEO.
1. SEO internal links develop relationships with content
Google crawls websites by following links, internal and external, using a bot called Googlebot. Every time the bot arrives on any page on your website, it begins to render the very first link on the page and follows this link. Through the following of links, Googlebot then understands the relationships between your content and how important certain pages on your website are compared to others.
Then, Googlebot connects similar pages together and begins to understand how deep your website goes with information on a particular subject. Of course, the greater the depth and quality, the greater the outcome for your traffic levels.
2. Internal links deliver great user experiences.
Ensuring your website is both intuitive in its layout and genuinely enjoyable to navigate (with an abundance of internal links igniting curiosity), will naturally mean that visitors will stay on your site a little longer than they would on your competitors'. This yields two major benefits. First, when site visitors are spending longer than average navigating your site and are actually on pages for long enough to absorb their content thoroughly, your organisation will leave a lasting impression.
The positive association between your organisation and the subject matter, will naturally convert visitors into clients or paying customers, as they'll innately see you as an authority in your industry.
The second benefit of internal links encouraging site visitors to stay a little longer, can be observed through your website analytics. The volume of visitors frequenting several pages at once and within consistently longer browsing times (checked by recording timestamps between link clicks), will communicate to Google and other search engines, that your SEO content is of a higher quality than most, and that your site holds the most reputable answers to related search queries.
3. Internal links control link value.
Further to content relationships, internal links also help you control the amount of value you want to assign to pages. Your homepage is often the most authoritative page on your website because it yields the most backlinks. Therefore, any links from your homepage to other pages on your website are deemed more important to Googlebot as the link juice that is passed is stronger.
Through this, you can control how much link value you want to assign to certain pages. For example, your newest blog articles might want a mention on your homepage for some time to ensure they get indexed and ranked quicker.
–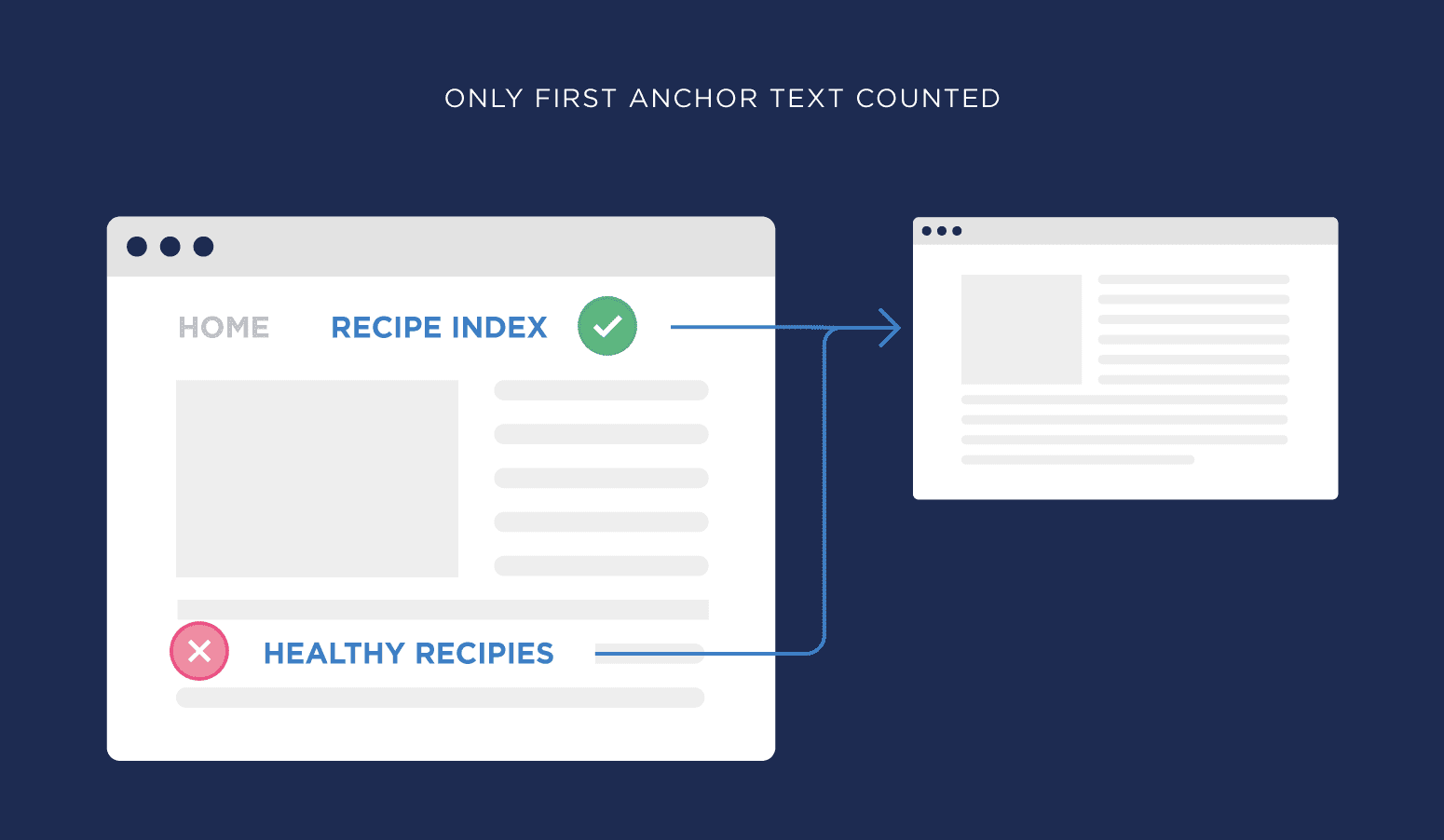 Internal link best practices.
When creating internal links, the text you choose to link is more important than you might think, When you are ready to link to a page on your website, the next step is to determine what word or phrase will be linked. It is important to use the right anchor text when internal linking for SEO as the anchor text is clickable. For example, through this article, you will see that we have added a number of internal SEO links but have used a mixture of anchor types. The anchor text should provide context to the linking page.
It is important to never over-optimise your anchor text or use the same anchor text too frequently. This is actually a form of keyword stuffing that is not liked by Google or your readers. By using keyword mapping tools such as SEMRush, you will quickly be able to identify plenty of synonyms and variations of the keyword you are trying to rank. Remember, Google is smart enough to understand the context surrounding your internal link and therefore you must be natural.