/* 1170x450 */ ?>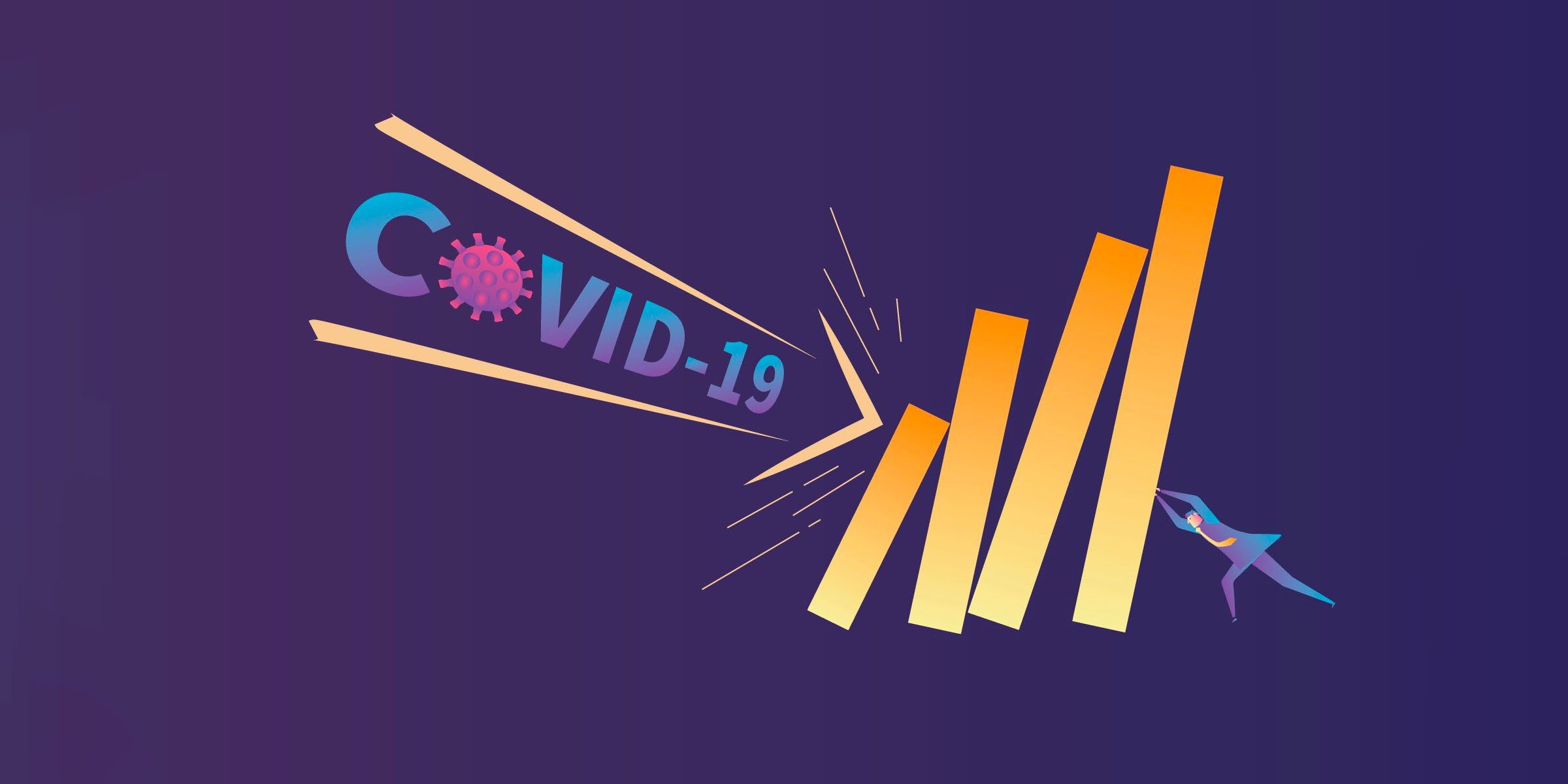 When a recession strikes, it's easy to just switch off your activities and go into hibernation. However, as seen throughout the GFC, those who flourished were the ones who kept the pedal to the metal. Discover what we can learn from those who stood tall in this short guide to recession marketing and carefully navigate your way around change.
Recently likened to the 2008 GFC by Jacinda Ardern, media-induced fear of COVID-19 has forced the hand of an early economic downturn. For some, you will have already been directly affected. For others, the trickle-down effect will follow. If you remember the GFC of 2008, it goes without saying that this was a period that has gone down in the memory books as one of financial ruin.
However, among the GFC wake, many brands rose and flourished.
"Be fearful when others are greedy, and greedy when others are fearful."

~ Warren Buffet.
Whilst survival in the short term is critical, opportunities loom on the horizon. When the economy takes a tumble, it naturally gives birth to growth. The winds will change direction and when they do; you'll want to be standing tall. We've seen this all before and it's due time we take the positives that will follow. What lessons can we learn about recession marketing from those who invested in the right areas to come out on top in 2020?
1. Retain your marketing budget (surprise!)
When recession strikes, marketing is typically the first on the chopping block. Ultimately, it's understandable, but it's a mistake. In the case of COVID-19, some companies have no choice but to cut budgets. Others, can instead, objectively look at marketing budget allocation to focus on what actually generates a return. Most small businesses will have a 2-prong marketing approach. Top-level marketing to build awareness and direct-response marketing to capture 'ready-to-buy' website traffic. There may be a third layer with email marketing campaigns, however, we'll get to that in a moment.
Cutting budgets on top-level brand awareness is wise. A less active market will determine even fewer returns from these channels. However, slashing budgets on audiences that are still making purchases will put your business behind the 8-ball long after the end of COVID-19. How do we know? In an article recently published by SEO Guru Neil Patel, he snapshots the traffic volatility due to COVID-19.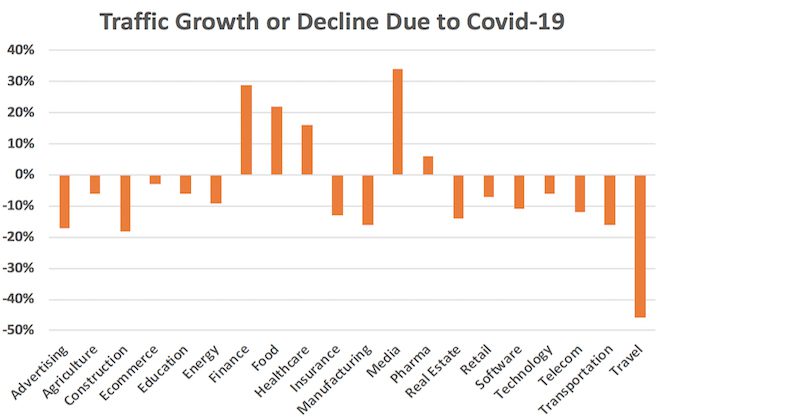 Analysing the snapshot, the majority of industries are down. But not by much. With an average decline of 10% across all major industries other than travel, you could even liken this to your every year seasonal change over blind panic. For all the doom and gloom media, there's buyers still seeking normality and now is not the time to close your doors to digital search. Instead, you should be striking whilst your competition sleeps.
Assess your budgets, figure out what can be achieved internally and re-allocate your spend. With much more time now being spent online whilst quarantines are at play, a complete lockdown on digital spending is not the answer; albeit the obvious choice. Your quietest time should be your busiest time and if you find yourself or your team with lighter workloads, get stuck into other areas of your business.
Assess ROI per channel.
Allocate less profitable tasks internally.
Double down on profitable digital channels.
Work closely with your suppliers.
2. Uplift market research strategies.
In times of economic downturn, you need to know how consumers are redefining value and responding to the recession more than ever. Price elasticity curves will be changing. Consumers will take more time searching for durable goods and will negotiate harder at the point of sale. They will be more willing to postpone purchases, trade down, or buy less. Must-have features of yesterday will be tomorrow's 'can-live-without'. Whilst your business and brand will still be valued, there will be a lack of interest unless you figure out what will keep your audience purchasing during this time.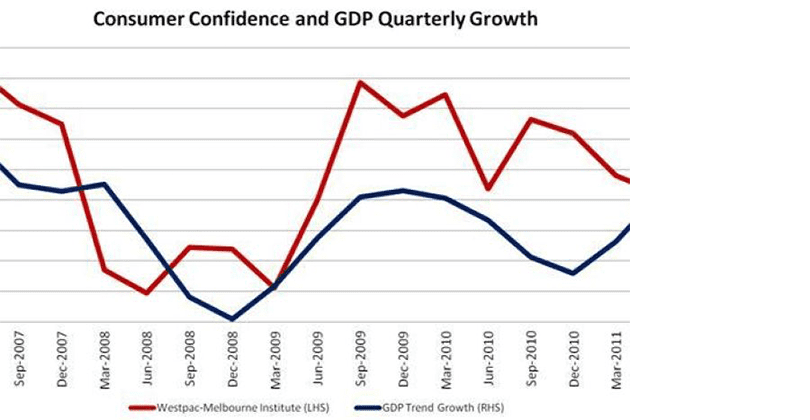 When analysing Westpac's consumer confidence growth chart during 2008, obvious correlations can be drawn. However, a key takeaway from this chart is that it took 3 months for consumer confidence to be at an all-time low. Then, twice as long once confidence starts rising. Assuming we're halfway down the slope to rock bottom, time is running out for understand your customers new buying behaviours.
If you can get to grips with a new strategy to see you through the storm, your attention can then be steered towards rising tall at the other end. From the 2008 GFC, companies that succeeded focussed on the both short and long-term at the same time. Ask yourself, how can you do the same?
Key actions to take.
Learn what your customers now value.
Talk to loyal customers; communication is key.
Be seen to be supporting your customers.
Adopt new propositions based upon your findings.
3. Present "family-first" values.
With self-isolation measures, limits on large gatherings and the prospect of school closures, we can learn some lessons from this to help battle the COVID-19 induced recession. Everyone, no matter what they tell you, is fearful. As such, your recession marketing messages should be sensitive towards this. Replace themes of individualism, risk-taking, and adventure with family values and community.

In the hunt for riches, it's easy to forget that we're human. Your colleagues, your clients and your friends will all be going through similar emotions. Through the social identity lens, social media is seen as fulfilling social needs of individuals. As such, your social identity will directly affect an individuals' intention to engage in your businesses online channels.
It has also been found that acceptance and approval, as well as a perceived sense of closeness to a company, drives social media engagement. The closer the consumer feels to the source company, the greater the sense of overlap is between the companies and individual values. Who better than yourselves to drive that message home during times of cost-cutting?
Communicate with your clients, understand their concerns and do your best to help where possible. Be consistent, authentic and non-advertorial. It's extremely common for businesses such as restaurants to constantly post offers or deals of the day. While this is great at bringing a few punters from the door, the minute you take those deals away, your restaurant has zero standing with it's audience. Therefore, when considering social media for restaurants, you must find family-focussed angles that speak to the heart, not the stomach.
As a result, your business will be long-standing during both highs and lows. The minute your audience lays impressions upon an advert, they will be engaged. After all, we're all human and we all need help at times.
Key messaging adjustments.
Replace individualism themes with a family focus.
Be social. Share valuable information.
Be seen to reward loyalty where possible.
Speak like a human, not an operation.
4. Adjust your pricing strategies
When the market is weak, your pricing strategies need to be tightened.
Small offers of 10% off when you refer a friend are not what's needed right now. Instead, you should operate limited-time offers and large discounts for short bursts at a time. Although less profitable, this will win the immediate business you need to carry you through the recession. Don't be afraid to make less profit during this time. You can always maximise your lifetime customer value further down the line when the market upturns again.
As most of you know, Digital Next is a relatively high-end service. We're not a massive agency with glossy everything but we're certainly not on the ropes because of a brewing recession. Our margins generally allow for 20% profit and we're expecting that we will have to adjust this over the coming weeks. We know that our clients are buckling their belts and smart spending is crucial and encouraged. That's why we're massaging our services to cater to this new market.
How can you adjust offerings to cater for new economic climates?
Key adjustments for your business.
Prepare for less profitability.
Understand the importance of cash flow.
Engage with new pricing tactics.
Test numerous strategies for the right balance.
5. Compromise with your suppliers.
Last, but not least, is securing relationships with suppliers. A solid supply chain is the key component of many risk management strategies. Time to call in a chip?
During the 2008 GFC, eCommerce giants like Amazon and even luxury 'alpha brands' like Louis Vuitton and Hermes gained market share. Whilst part of their strategy was a solid understanding of customer psychology, it was also about working closely with their suppliers. Is now a good time to lock in early-buy allowances, extended financing, and generous return policies where possible?
It's a big yes from us.
Every business will be looking after number one during times of recession. However, there's nothing stopping you working closely with your suppliers on dual strategies to benefit one another. Strength in numbers.
Recession marketing roundup
The most important takeaway here is to not make rash decisions. Slashing spending, whilst wise in some areas, can spiral your business into much longer down periods. Understand the climate, address your audience humanely and structure plans to keep moving forward (no matter how slowly). For every downturn, comes an inevitable upturn.
How can your business rise tall and capitalise upon those entering hibernation?
We've all got a challenge ahead of us in the coming months. As a business community, particularly here in Melbourne, we've seen how much we can band together and support one another. So how about we change the narrative and carry on down that path? If you'd like to talk to us about how you can optimise your marketing budget, contact us for a coffee, a call or a chat via video call.