/* 1170x450 */ ?>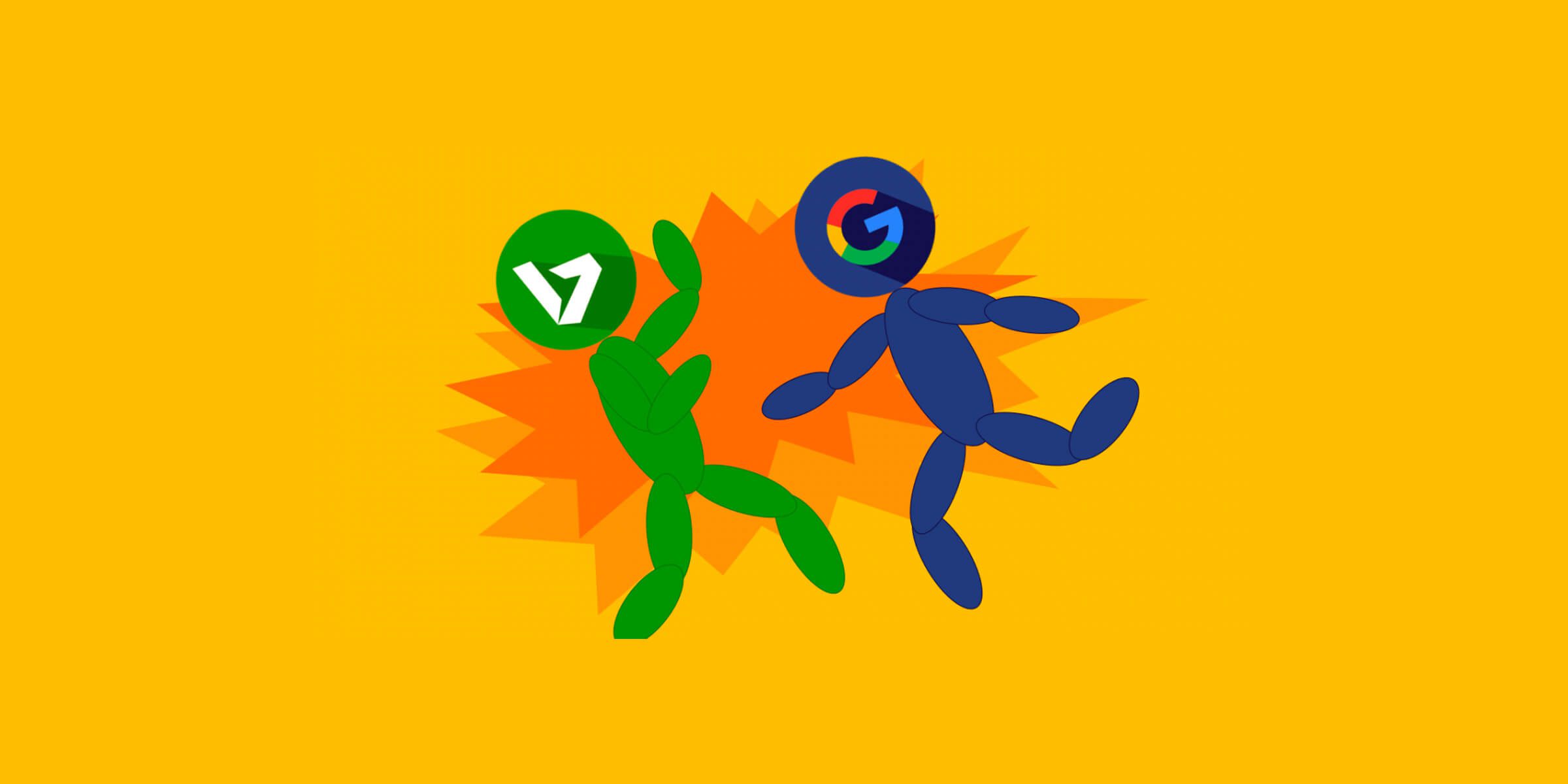 Let's face it. When it comes to pay per click services, we're obsessed with Google. So much so that it makes you wonder why other search engines even exist. With a relentless focus on Google Ads campaigns, most businesses never consider Bing Advertising as part of their marketing strategy. Yet, they really should. Discover why as we bring to you the main event of Bing Ads vs Google Ads.
In a drag race, pitting Bing Ads Vs Google Ads is a complete mismatch. Google entertains over 90% of all search queries worldwide and we don't foresee a day where this will be rivalled. However, despite Google's clear reach advantage, there are many reasons why Bing Ads should still sit within your marketing strategy.In this short guide, we're paying homage to some of Bing's best marketing features and comparing Google Ads vs Bing Ads in a showdown that may make you reconsider Bing for your next campaigns. Scroll down to find out why Bing is still worth investing time into, despite reaching a much smaller audience.
Now, let's get into it.
What is Bing Advertising? (Bing PPC)
Similarly to Google Ads, Bing advertising enables publishers to bid on search phrases and display adverts that will appear when a user enters this search phrase on Bing. This is what we call direct response marketing. The user performs a search phrase and you are directly responding to that query with relevant information.
In addition to this, just like Google Ads, Bing operates a pay-per-click advertising model. As soon as a searcher clicks on your advert, you are charged a fee for the privilege of advertising on Bing. Now, if you are familiar with managing Google Ads campaigns you will know that the cost-per-click for certain keywords can be astronomical. The good news is that Bing is typically much cheaper than Google Ads. But, we will get to the major differences between Google Ads and Bing Ads very shortly.
To assist you with reaching the right audiences, Bing advertising also enables the option to preset targeting filters which determine when your advert will be published. For example, let's say you are an electrician that does not work weekends, switching off your adverts during the weekends ensures that you are not wasting leads. Or, if you want to appear solely to people who are using a mobile device, Bing enables you to set this parameter too. While those are two very simple examples, just like Google, Bing's targeting options are quite impressive. This provides you or your marketing team much more flexibility when it comes to optimising your cost-per-conversion or cost-per-acquisition.
So, now that you are across a brief introduction into how Bing PPC advertising works, let's explore the differences between Bing PPC and Google Ads. You may be surprised to find that Bing is still extremely worth investigating as part of your marketing strategy.
Bing Ads Vs Google Ads: The Benefits of Bing
Presenting a great opportunity to diversify your marketing, Bing Advertising provides a unique approach to your paid search marketing. If advertising via a platform that your competitors are most likely not exploring is not enough to convince you, here are the most notable differences between Google Ads and Bing Ads.
1. Bing users have more buying power.
There's no comparison between Google Ads and Bing Ads when it comes to audience size. However, you will be surprised to learn that people who use Bing Ads are typically willing to spend more per transaction. As a search engine dominated by an older demographic with higher net incomes, Bing users are what we like to call 'sticky' customers. In fact, almost 40% of the Bing network are aged between 34 to 54 years old. In addition, over one-third of the Bing network has a household income of over $100,000.
So, despite Google's superior reach, Bing offers strong indicators that users who find your adverts via the Bing network have higher spending powers. With the ability to reach over 60 million people who do not use Google, you may just find that your average order value and conversion rate increases by targeting a maturer demographic.
2. Bing users are more corporate.
A major separation between Google Adwords vs Bing Ads is the type of audience. If you have ever worked within the most corporate of environments you will know that downloading internet browsers or computer extensions is against company policy. So, when your boss hands you a brand new Windows operated PC or laptop, you can bet your cotton socks that there is no escaping Bing. As the default search engine for all Microsoft machines, 3 out of 4 business computers using Windows are likely unable to switch to Google Chrome or change the preferred search engine.
This means that Bing becomes a very 'desktop-first' search engine. As workers browse the internet during working hours, Bing presents a unique opportunity to target the corporate world. Sure, these users may choose Google for personal use, however, this is where understanding your audience is critical. If you are a B2B business then Bing provides an immediate gateway to corporates situated within their corporate environments.
3. Bing delivers higher conversion rates.
Considering higher net incomes, mature audiences and a strong interest with financial and shopping services, depending on your industry, Bing may deliver higher conversion rates than Google. One of the biggest decision making factors for most services or products is affordability. Therefore, higher spending power alone eliminates a lot of wasted ad spend through clicks that do not convert.
In the automotive industry, a business found that Bing adverts were converting at around 10% which was 56% stronger than the same campaigns launched via Google Ads. If you have a strong handle on your 'ideal' or 'most likely' to purchase customers, Bing Advertising may just significantly reduce your cost per lead or sale.
4. Bing offers cheaper cost-per-clicks (CPC).
Another compelling reason to explore Bing Advertising vs Google Adwords is that you can almost guarantee a much cheaper cost per click. Both Google and Bing are auction bidding platforms. Therefore, it goes without saying that Bing will typically be cheaper than Google. For every 1 company on Bing bidding for a particular keyword, at least 5 companies are on Google. Less competition means less risk of overspending on certain keywords just to obtain visibility.
In a study by ReportGarden, the average cost per click for Bing was $7.99 whereas Google reported $20.08. This creates huge opportunities to increase your ROI from Bing. Sure, Google Ads will drive revenue growth much faster. However, based upon the studies report, your campaigns on Bing will be almost 3x more cost-effective. Blending this with higher engagement and conversion rates, Bing becomes extremely powerful.
5. Bing offers unique filters and extensions.
Both Google and Bing provide powerful targeting options for your campaigns. However, unlike Google, Bing also offers the ability to set age filters with your search adverts. This means that you can decide to only show your adverts to a certain age group. When you consider that a large number of businesses are only attractive to certain age groups, this feature alone within Bing is extremely powerful.
For example, let's say you are a retailer of dental dentures. Chances are, the lion share of your audience is not 18-25 year olds (we hope). So, by having complete control over age demographics, you can mitigate a shed load of wasted spend and keep your campaigns lean. This also enables you to create age group specific campaign messaging. Even the simplest of changes to your campaigns, such as different messaging for different age groups, has the power to further extend your conversion rate.
Another advantage of Bing targeting is social media extensions. With Google, your adverts do not show how popular you are on social media. However, with Bing advertising you have options to showcase how many followers you have on Facebook, Twitter and Instagram within your adverts. While we do not advocate vanity metrics, for some industries, social proofing is absolutely vital to improve consumer confidence. People love to shop where other people are shopping. Therefore, by socially proving that your business is popular, this may be enough to convince anybody who needs a little extra push before buying.
6. Bing adverts are placed higher up search results.
The layout of search engine result pages is forever changing. However, as of this writing, since there are fewer companies competing for real estate on Bing, your adverts will tend to be situated 35% higher in search results than Google Ads.
When it comes to browsing behaviour, the further down the page your adverts are positioned, the less likely you are to be found. Therefore, by a sheer lack of competition, your campaigns are more likely to be positioned above the fold (what people see before they scroll down) which means your click-through rate is also very likely to be improved.
7. You can import Google Ads into Bing.
Now we have explained 6 reasons why Bing can still play a major part within your marketing mix. It could not be any simpler to get your campaigns launched. If you are already running Google Ads, Bing Ads comes with a feature to directly import your campaigns into their own search marketing platform. Within just a few clicks, you can have your campaigns up and running on both networks.
The best news? You will have to make minimal modifications to the imported adverts to ensure they meet your targeting requirements. Therefore, all of that hard work you have been doing on Google Ads can be recycled for Bing almost immediately.
8. You can sync Google Merchant Centre too.
If the thought of practically copying and pasting your Google search ads over to Bing gets you a little excited, you're going to absolutely go bananas when we tell you that Google Merchant Centre now syncs seamlessly with Bing too! For anybody looking to extend their eCommerce direct response marketing over to Bing's platform, this is an absolute god send. As you know, fixing Google Merchant Centre feed issues can be an absolute nightmare. By seamlessly integrating this with Bing, those many hours sifting through shopping feeds are now twice as valuable.
Once again, Bing eCommerce advertising becomes very successful when you consider the improved average order value, greater buying powers and completely identifiable user base. With low cost per clicks (comparatively to Google), your eCommerce return on ad spend could quite quickly increase dramatically through using Bing.
Google Ads Vs Bing Ads: Is It Worth It?
Yes, Bing Ads is definitely worth investing in. Taking into account the key differences between Google Ads and Bing Ads, Bing marketing presents strong opportunities to reach audiences that you would typically never find on Google. When you combine this with varied targeting options, a cheaper cost per click and greater spending power, Bing Advertising can become extremely powerful when done well.
If you focus too much on vanity metrics such as 'reach', 'clicks' and 'impressions' then you will no doubt completely disregard Bing advertising. However, by focussing on hard metrics such as 'conversion rate', 'average order value', 'customer lifetime value' and 'engagement' you will quickly be able to identify that, despite the smaller volumes, Bing advertising generates some of the highest converting traffic available.
In summary, Bing advertising presents a lower risk and niche search marketing service. For a small to medium business or a business whose target audience can be found on Bing, there are strong advantages that make Bing advertising a very attractive platform. If you would like to discover how Bing advertising could work for your business, contact us on 03 9699 4585 or request a call back via the contact page on our website.